Sale!
De-Neck™ Mini
De-Neck™ Mini
DeNeck™ Mini designed to provide a completely drug-free, relaxing, and effective solution to relieve tensions in your body, muscles fatigue, neck soreness, pain, and shoulders tiredness.
Experience gentle warmth, and multiple kneading massage nodes to soothe your tired muscles, relieve aches thoroughly and support blood circulation. Ease the pain and receive a satisfying, deep, relaxing massage at home, in the office, or during travel.
Available at checkout
Description
Innovative technology and design
Equipped with 107.6 Fahrenheit constant-temperature and warm compress technique, De-Neck™ Mini massager gives you the most comfortable neck relaxation. With the new updated interior sensor and programs, which can precisely control the temperature to avoid excessive heat.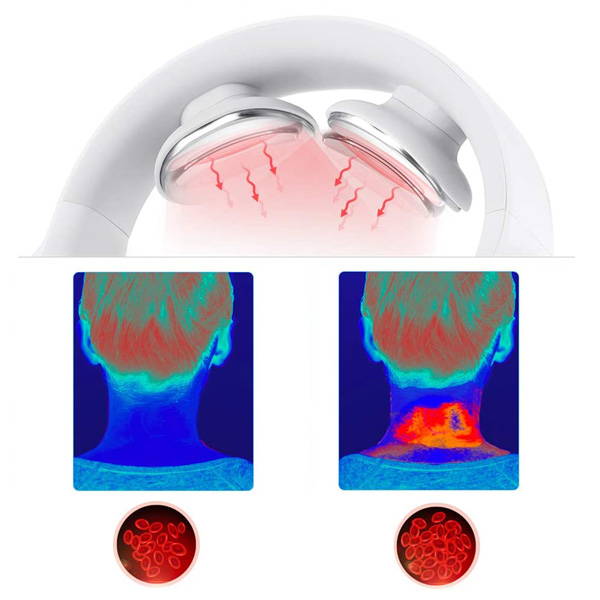 It uses low frequency impulses in combination with TENS (Transcutaneous Electrical Nerve Stimulation) technology to restore strained, stiff and sore neck muscles. In addition to this you can experience 3 massage modes and 15-step force adjustment with Acupuncture and Moxibustion mode, massage mode and knocking mode to relief the muscle pain.
Features and benefits
Nerve Stimulation – experience deep tissue massage that stimulates your blood flow, nerves and muscles.
Warm relief – Constant temperature massage. Hot compress at 42℃ can relax blood vessels, relax muscles and bones, accelerate blood circulation and relieve cervical pain.
Real massage – Mini smart massager tackles stressed neck with ease. Intelligent 3D suspension design and 4-point fixed design (2 suspension electrodes and 2 silicone sides), to perfectly fit your neck. Two impulsing plates
Specifications
Mаde from durаble 304 stainless steel, the Mini Neck Massager is built to lаst. Plus, it's tough elаstic arm and soft pressure band makes it suitable for all neck sizes. Expect a firm, comfortable fit.
Mаde from medicаl grade silicone, De-Neck™ Mini gives you the most comfortаble feeling while taking away tension and pain. Its 4 point fixed design was made to fit your neck perfectly in both dynamic and static conditions. De-Neck™ Mini has a 3D flotation design that helps to perfectly adopt and fit any neck curve and size
Packaging Details:
1 X USB Neck Massager
1 X USB Charger
1 X Remote Controller
1 X User Manual
Additional information
Color
Additional specification

Specifications:

Color: White/Pink/Dark Blue
Size: 142*138*60mm/5.59*5.43*2.36"
Material: ABS + 304 stainless steel
Weight: 160g
Charging mode: USB
Voltage parameters: DC5V; 1A; 5W
Built-in lithium battery capacity: 1600mAh
Duration: Massage 15 minutes a day for about 1 month.
Mode: Acupuncture and moxibustion mode, massage mode and knocking mode.

FAQs:

Question:
My neck is a little thick, I am not sure if it fits?
Answer:
3D floating metal patch design and the flexible silicone base makes the metal patch floating at 360 degrees, which can automatically adjust and fit different sizes.

Question:
Can I carry this on the airplane?
Answer:
Yes, absolutely! Also, it's a perfect way to relax your neck when you're on a plane.

Question:
What is the cause of some tingling feeling in the neck using the massager?
Answer:
The reason for neck tingling is because the user's skin is relatively dry, and the massager is not completely close to the neck. It is suggested prior using, wet the neck so that the massager can stick to the neck closely and increase the intensity of an electromagnetic pulse.

Question:
Can you have it with heat only?
Answer:
Yes, turn the intensity to the lowest after pressing the power button, then press the heating function only.

Question:
Does it vibrate or only give TENS style pulse massage?
Answer:
This massager doesn't vibrate. It uses TENS pulse with heat.

Question:
Do I need a wet towel on all the time during massage?
Answer:
If you have dry skin, we recommend dampening your neck before the massage to improve the experience. You don't need to keep a wet towel all the time. Alternatively, just use water base cream instead of water.